A little more than three years ago, a great blogging friend of mine, Kristi from
making it in the mountains
, came up with a brilliant idea. She thought it would be fun to have several DIY bloggers all work with the same item and share the many different things we were able to create out of it. And so, the
Monthly DIY Challenge
was born. We've had a ton of fun with the challenge over the years, and I have created some of my favorite projects ever, like this
wooden crate pet bed
, this giant
hanging chalkboard
, and this
modern farmhouse wall planter
, just to name a few. And the girls I have been collaborating with on this year after year have become some of my very best friends. We've watched each other's blogs grow and evolve, shared biz advice, mom advice, and lots of laughs. Sometimes I think it's kind of crazy that I have a group of online friends, only a few of which I have met in person, but in all honesty, I don't know what I would do without those girls.
This post contains affiliate links for your convenience. For more information, see my disclosure policy
.
Despite how "Pinterest perfect" people think blogging is, it's actually a really challenging job. It's full of ups and downs and everything we think we know about it is constantly changing as the internet gets bigger and bigger. It's not for the faint hearted. And it is certainly not something you can handle alone. You need friends who understand, friends who rave about your latest projects, celebrate your successes with you, encourage you when you're feeling discouraged, talk you through finding balance, and occasionally dig some
really
old embarassing posts out of the archives to laugh about. Friends who support you when you need a break and support you when you're hustling hardcore. Friends who get it. These girls are my people!!! 💛
So today, I am sad to announce that this is the end of the Monthly DIY Challenge. However, I am so thankful that it is
not
the end of the beautiful friendships I have made.
Not all of them were able to participate in this last round of the challenge, but do me a favor and stop by to visit them all if you have the time. These are some of the most creative women I know. I just know you will find something that inspires you:
Today, we are working with label holders. Since it's December, I thought it would be fun to make some ornaments. I love making ornaments and made some
wood burned ornaments
and
feather boa ornaments
a few years ago, but haven't had a chance for the past few years. It's always fun to add something new to the tree!
Materials:
How to make your own ornament:
These ornaments were really easy to make. First, I painted the wooden circles red. Allow to dry.
Next, I colored in a gold section across the middle with a paint pen. Allow to dry.
I cut a photo to size, centered it, and attached it with photo stickers.
I attached my label holders using a small screwdriver. There are many types of label holders available. Some
require screws
and some
have adhesive
.
I wrote the year in the label holder with a Sharpie pen. You could also cut a piece of paper to size and put it in the label holder, but I really liked the look of the red background.
Last, I cut a piece of twine and used hot glue to attach it the back of the ornament.
In less than 30 minutes, I had a cute new ornament to add to the tree. It's fun to have one documenting this year of our life (new baby, big move, new house, new careers).
Check out my friends' label holder project ideas: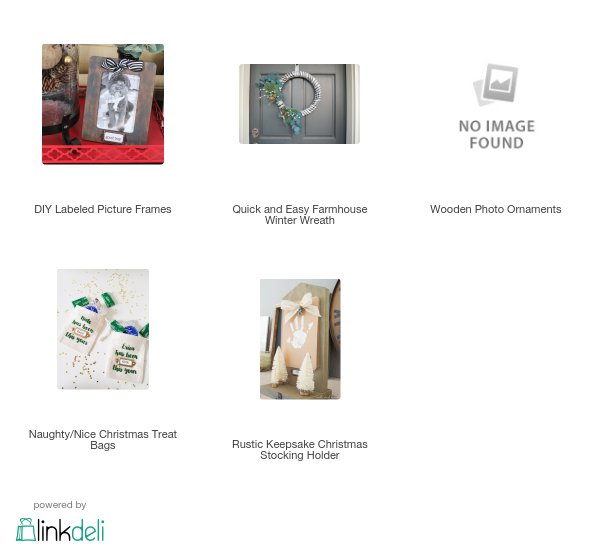 You might also like...