My little sister got married this summer. They had a beautiful eclectic boho style DIY wedding. There were wildflowers, and rose gold, and macrame, and wood tones, and colorful vases, and vintage sofas, and oh my goodness, it was all just so stunning! Anyway, there was a lot of DIYing going on leading up to the wedding (Who doesn't love a DIY wedding??
Here's the details from ours
.). One of the things we made were macrame plant hangers that held rose gold pots with ferns in them. And when I say
we
made them, I mean that I cut all of the rope and sat on the sofa with my giant pregnant belly while my sister and the rest of the bridesmaids sat on the floor doing all of the hardwork.
This post contains affiliate links for your convenience. For more information, see my disclosure policy
.
These planters were gorgeous and one of my favorite parts of the wedding decor. When we decided to use rope for the
Monthly DIY Challenge
, I thought it would be fun to try creating my own plant hanger, but to help it meet my style more by using jute rope instead of macrame cord. I truly wanted to make some fern hangers for our front porch, but apparently you can't buy ferns at this time of year. So I settled on a houseplant instead. Let's see how long I can keep it alive. 😉
Also, before we get started, can we just take a peek at the beautiful macrame backdrop my sister created for the wedding? The girl's got talent! (And they did screen printing as their unity ceremony. How cool is that?!)
Okay, let's go. Don't mind my backdrop of our dirty porch. Let's be real... crafts are rushed these days with two kiddos, so I threw this together on the deck while watching the toddler sprint around in the yard like a wild man. I'm here to tell you that if I can macrame, you definitely can!
Materials:
How to make a jute rope plant hanger:
Cut six equal lengths of jute rope. I didn't do any measuring. Just estimated. Eye ball how low you want the plant to hang, then add a little to dangle underneath the plant and a little more for knots (each knot probably takes up about four inches or so). Make sure all six are the same length.
Tie all six pieces of rope together at one end. Leave a little excess to hang underneath your plant pot if you would like.
Divide the six into sections of two. Tie a knot in each section. This knot should sit right at the bottom edge of the pot. (You may want to hold the pot up to your macrame every so often to make sure it's lining up right)
Then repeat the steps, dividing the sections again, this time joining with the strand from the neighboring section. Again, tie knots in each new section of two. This set of knots should be about half way up the side of the plant pot.
Repeat the steps once more... divide into sections of two and tie knots. This set of knots will sit at the top edge of the pot.
Place the plant and potting soil in the pot. Place the pot in the center of the knots. Adjust the knots as needed.
Gather all six strands of jute rope centered above the plant at whatever height you would like. Tie a knot.
Now you just need to hang it! Tie one more knot around a hook, rafter, etc. or if you are out of length of rope, thread a hook through your top knot and hang from that. Tah dah! Macrame is so easy! :)
I have every intention to hang this inside, but if you've been following my Instagram stories, you know we had our wood floors refinished last week, and then we had some family stuff happen, so we haven't even moved our stuff back in! So, until we are back in the house, little cutie will be hanging in our backyard near the fire pit.
Ready to see more?
Check out my friends' rope project ideas: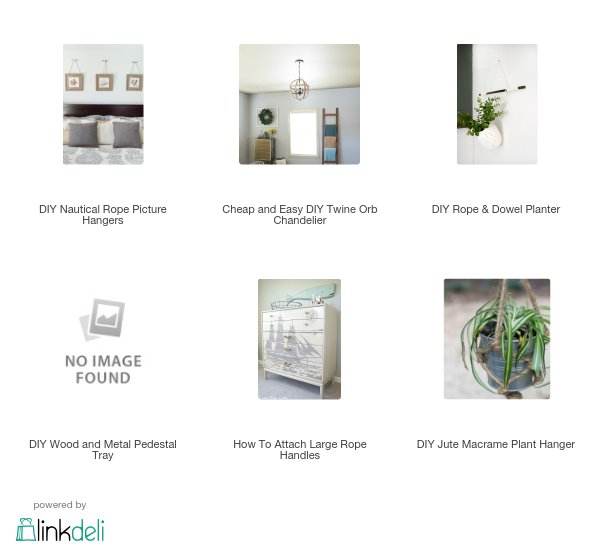 Related Posts: